God's given us temples, bodies to take care on. We are to keep them physically, mentally, and spiritually clean. Susan Neal gives us tips on how to jumpstart the process.
Please enjoy this podcast on your favorite podcast platform. Although efforts were made in editing, this transcript may include a few typos. It's difficult to catch some minor errors. Enjoy!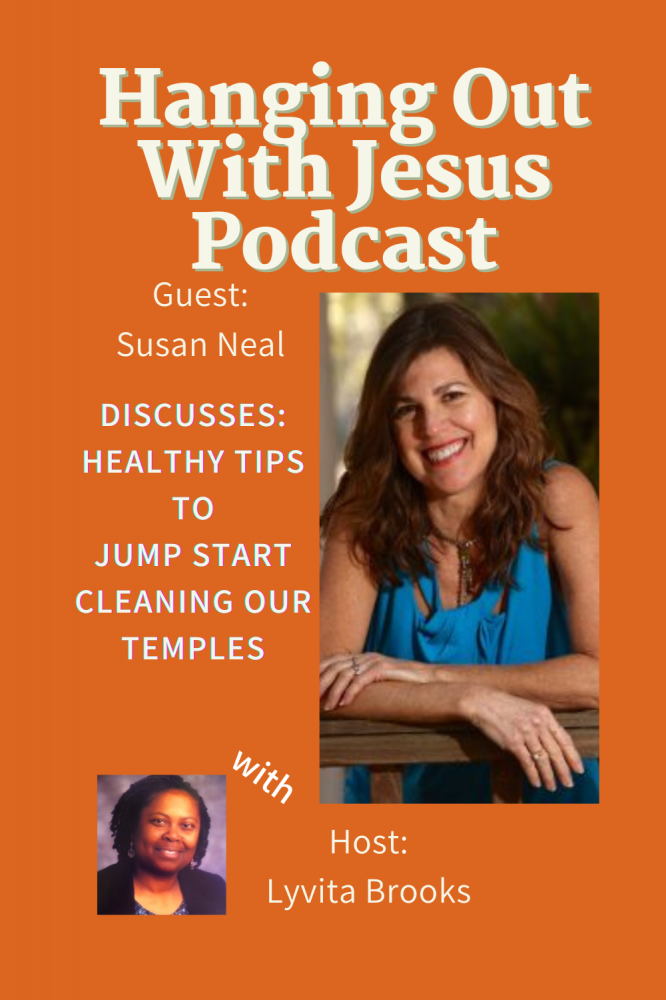 Introduction
Saints, welcome to Hanging Out With Jesus Podcast for Believers who want to strategically Go and Do what God's called you to, for such a time as this. How? By securing your foundation in Christ through practicing spiritual disciplines and being reminded of who you are and whose you are in order to live purposefully in a collapsing culture.
For more resources, including the free Christian Blueprint, which helps you gauge where you are foundationally in Christ, now, and disciplines to practice for spiritual growth. Visit www.hangingoutwithjesuspodcast.com. You can also subscribe to the Newsletter for twice a month reminders, podcast updates, challenges, spiritual disciplines to practice, and more.
Hey Y'all, I'm Lyvita Brooks, Christian author, Bible teacher, founder of The Me Project Academy, and your host.
Now on to the Intro …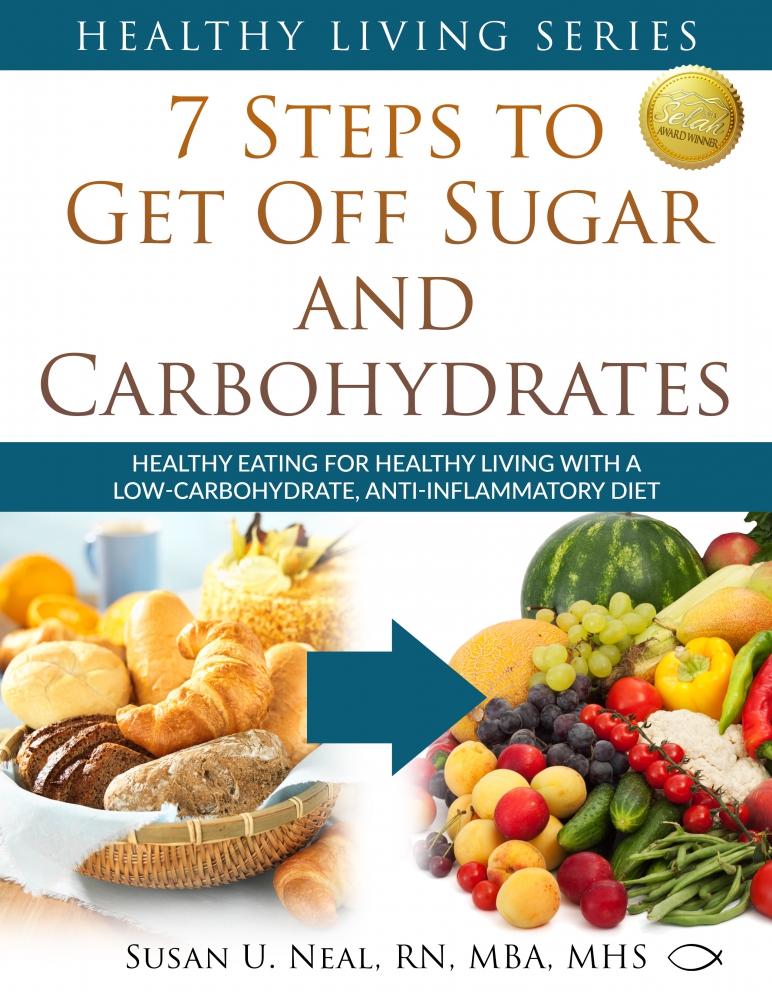 1:18 - This is episode 79 and I'm to Susan Neal about the best ways to take care of our bodies. On this show we talk about the spiritual but today we are talking about the temples of God given to us by God for such a time as this.
2:00 - If you enjoy this episode then check out episode 70 called The Joy of Being Without Social Media and episode 55 about God's Temple and how to keep it Clean.
2:12 - Thank you to everyone for supporting this ministry which contains the podcast, academy, blog, books, journals, and Bible studies on Pinterest and Amazon.
2:25 - I enjoy receiving DM's with comments and pictures on Instagram, the blog, podcast transcript, YouTube and through email in which everything can be found in the transcript or www.hangingoutwithjesuspodcast.com. I'd love to hear from you because then it makes this feel more like a conversation.
Now come walk with me where we intentionally and daily hang out with Jesus.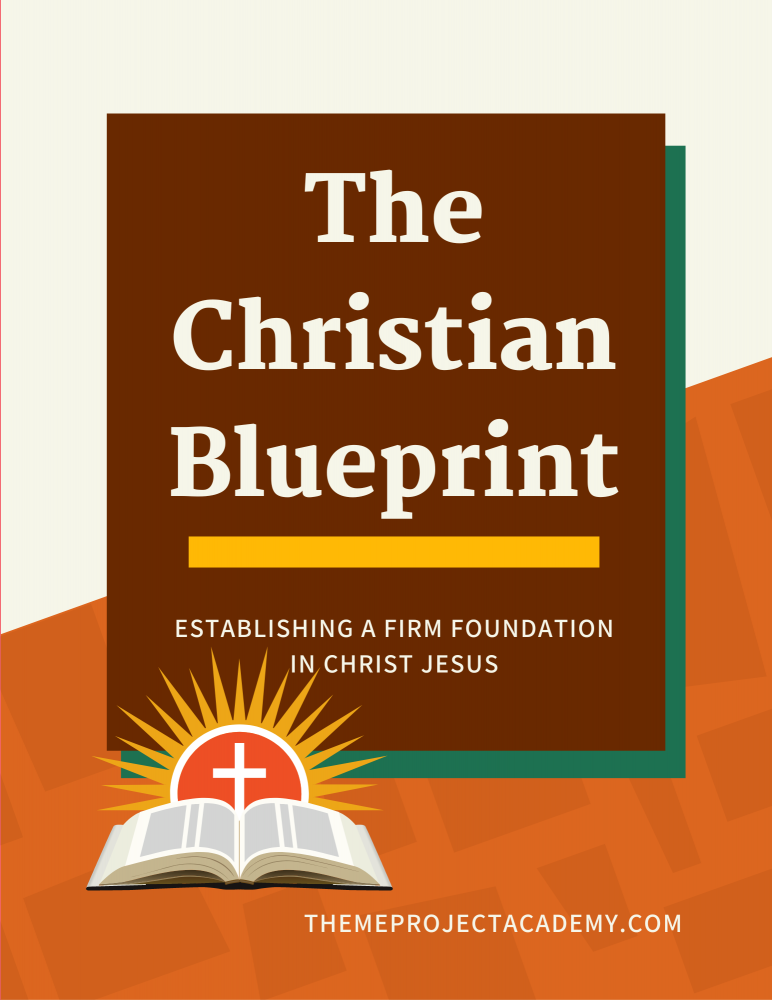 3:05 - Let's Pray…
Our God and Creator, God Almighty, we come to You in the name of Jesus Christ our Lord and Savior. You made us the temple of the Holy Spirit and our goal is to do our part in keeping them healthy in strong. We pray that as Susan and I speak on the topic of healthy living and eating right that the words You have given us will reach the intended saints, so that they will be better able to take care of their temples, in order to Go and Do what You have called them to do. In Jesus name, we pray, Amen.
3:55 - Lyvita: Saints, as I share what our guest does on this episode, the question is going to arise, "Well, Lyvita, what does this have to do with Hanging Out With Jesus Podcast?" Well I'll answer that after I introduce her. Welcome Susan Neal.
4:16 - Susan: Oh thanks for having me here, Lyvita
4:24 - Lyvita: Susan, I believe the saints are going to be blessed by what you have to share because it's all about healthy living, not just spiritually but physically, mentally and socially.
4:41 - Susan: Yes
4:45 - Lyvita: Saints, Susan Neal is first a follower of Christ Jesus. She's an RN with a master in health science and an MBA who wrote a #1 Amazon best-seller called 7 Steps to Get Off Sugar and Carbohydrates. She has a Healthy Living Series, Healthy Living Journal which won the Golden Scrolls award and the 2019 Best Inspirational Gift Book. Her newest book is called Solving the Gluten Puzzle which can help you determine if you have a gluten-related disorder and how to treat it.
5:37 - So saints, have you figured out why I might have invited Susan Neal on Hanging Out With Jesus Podcast? Yeah, we talk so much about hanging out with Jesus, securing our foundation in Christ through practicing spiritual disciplines, and living a purposeful life in a collapsing culture. But rarely do we talk about the nutritional- physical part of hanging out with Jesus.
6:14 - Now let me begin with this: Susan nor I are giving you medical advice. We are simply sharing our experiences and the research that Susan has written in her books.
6:26 - I want you to not just be spiritually overflowing in Christ Jesus, but mentally, socially, financially, and physically. What better way to do that then to learn how to take care of our body for such a time as this.
6:45 - So Susan, what happened to cause you to live a healthier lifestyle to the point that you wrote books on it that aren't just for believers but for everyone seeking to live healthy?
Discussion Questions:
9:15 - Why is it just as important to keep your body healthy as it is to keep spiritually healthy? How do the two work together to help you live a more balanced life in Christ?
("Fruit is God's dessert." Susan Neal)
11:05 - Susan I've got to ask this because I have a sugar problem, like some of my listeners. What are some tips to cutting or eliminating the sugar crave?
13:45 - Any suggests for the carbohydrates saints, like my cousin who loves bread?
14:26 - Susan, what are some health challenges that people might run across besides becoming addicted to sweets and carbohydrates?
16:10 - Candida exposed in our body, one way to detect it and get rid of it.
18:40 - Susan, I read where you do Christian Yoga. How is it different from regular yoga and is this one of the disciplines you practice to keep your body healthy and strong?
21:43 - Saints, there is another reason why I invited Susan on this episode. First, it's because we needed to learn more about keeping our bodies healthy and strong in order to Go and Do what God's called us to do. Then secondly, Susan Neal is the director of CIPA, Christian Indie Publishing Association, in which I am a member. It was this association that helped me find places to help with improving my book Nuggets for Thought and developing relationships with other authors whom, together, we can support each other, pushing each other to the next level of their journey. Susan can you share more about CIPA?
24:30 - So Susan how can our listeners find you and follow you?
25:58 - Susan is there anything else you'd like to share with the saints about living a healthy life in a toxic world? She shares 4 tips to do now.
32:05 - Susan prays
Lyvita: Saints, thanks for listening today you may also find it helpful to receive the Me Project Academy newsletter with episode updates, spiritual discipline tips and much more. All this and more can be found, including my contact information, on www.hangingoutwithjesuspodcast.com or in the show notes and today's transcript contain our guest contact information.
So until we meet again over the airwaves, intentionally and daily, hang out with Jesus.
Lyvita and Susan: Shalom!
Resources Mentioned on the Episode and suggested reading & social media handles:
Calls to Action:
Sign up for The Me Project Academy Newsletter for resources on developing disciplines to help you grow in Christ, prayer and new releases of the podcast.

Website: www.hangingoutwithjesuspodcast.com

@hangingoutwithjesuspodcast (Instagram)

@themeprojectacademy (Pinterest)

[email protected] (for comments)

www.goodreads.com/lyvitabrooks