This episode is a profound exploration of strategic thinking, intentional living, all centered around planning for your next month's goals. The host, Lyvita, shares her story of how spending a day with the Lord helped her see that she left her first passion. Writing!

Steps are provided to show you how to do the same thing, when you lose your passion for doing what God's called you to do. Listen in, you maybe surprised as to it's simplicity.
Please enjoy this podcast on your favorite podcast platform. Although efforts were made in editing, this transcript may include a few typos. It's difficult to catch some minor errors. Enjoy!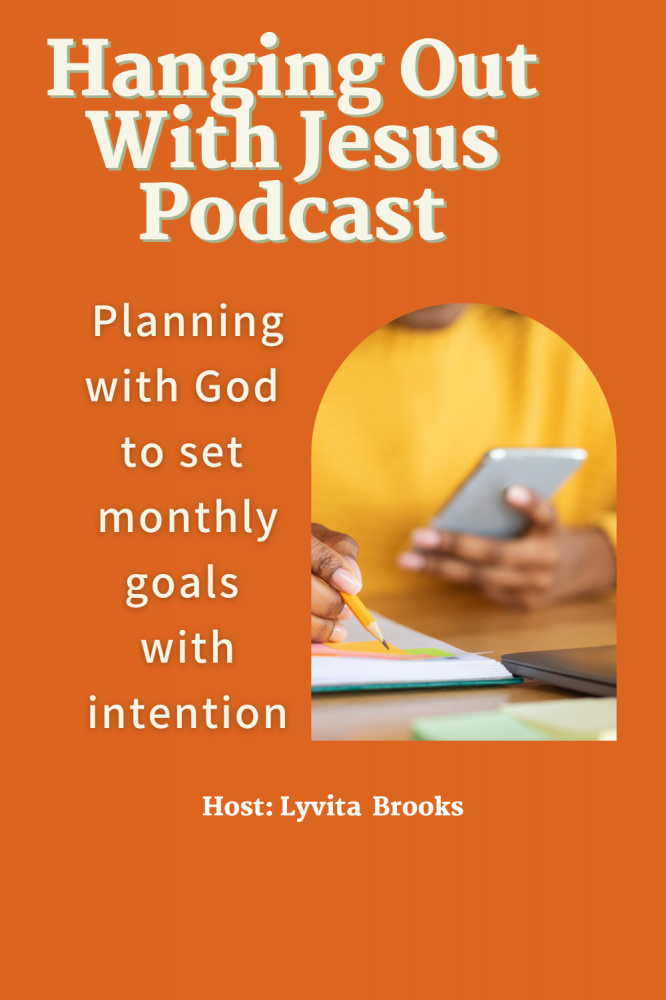 Introduction
Welcome to Hanging Out With Jesus Podcast where we equip the saints for ministry. By bringing you tips, interviews, inspiration and information on how to live intentionally and daily in Christ.
For more resources including your free newsletter visit www.hangingoutwithjesuspodcast.com or click the link in the show notes.
Hi, I'm Lyvita Brooks, author Bible Teacher, founder of The Me Project Academy, and your host.
Thanks for supporting this ministry and rating and commenting on the blog and whatever podcast platform you are listening to because then it makes this feel more like a conversation. If this is your first time listening in… WELCOME!
This is episode 85. Our focus is on setting up a monthly plan daily with God, intentionally. That and more is coming up …
Now come walk with me where we intentionally and daily hang out with Jesus.
In Christian News
1:18 – This is International Strategic Thinking Month and National Suicide Prevention Month along with all the USA students should be back in school by now. Now isn't that interesting? An International Strategic Thinking Month.
According to istudyforsuccess.com, they define strategic thinking as "a form of problem solving and involves being able to observe, comprehend, and analyze a variety of information, plan solutions and then select suitable actions to take." Now here's what I really like about what they said, "Strategic thinking involves more than logic; it is being able to brainstorm and handle unexpected twists and turns and is truly a valuable skill for students to develop." And I'd add for adults to have.
Saints, logic is not "one and done". No, you need to be able to strategize. This is a skill not just for students but something we as adults do regularly, which is working through real-life problems and situations. I believe if we teach our youngsters to think logically and strategically being infused with God's word, then when twists and turns come to throw them off track, they will realize that suicide is NOT an option.
By the way the planner for The Fortified Coaching Program which is opening up at the end of this month … the planner is called The Strategic Planner. Wow! God gave me that name a couple years ago. Who knew that there is actually a month devoted to thinking strategically? That's a God Moment!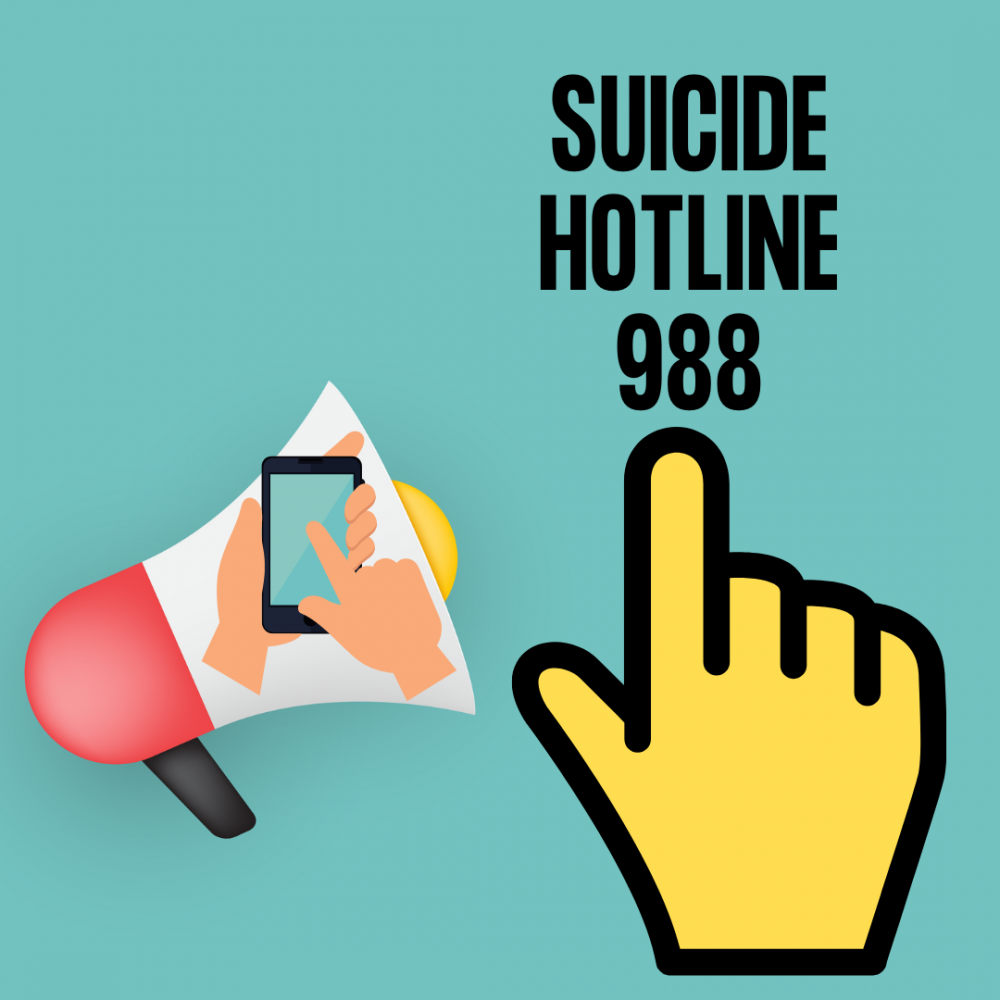 What's Happening In The Me Project Academy
3:43 – September 2nd, I went and spent time with the Lord, talking about what my focus should be for September. It was a business meeting we needed since March. The Holy Spirit had a lot to share and my ears, head, heart, gut, and whole being were on high alert listening. There is so much I found out about me, how much my God loves me, and my next steps.
One thing I'd like to share is that the Lord let me know I have left my first love. At first I thought He was talking about Himself. Nope He was talking about my writing. I've always loved writing. It's like it's engraved in me. And true I had left my first love, that I'm calling my passion for emphasis here on this episode.
What's your first passion? The thing that you looked forward to doing? Couldn't wait to find out more about? Wanted to do and never thought of it as showing off but fun? When you find it or should I say when you know it, then that's one of your gifts or talents. Time to take it, pray over it, and utilize it according to how God's leading you and not how you want to use it.
With all that said, Saints, make sure you are working from your first passion, that thing you loved doing because when you do, well that gives life more meaning and you begin doing things with intention and daily. Resulting in God getting the glory and you rejoicing in Him.
Well I am back writing. This time with more clarity and determination than before. I've returned to writing Desiree, but it's not going to be the novella I originally put together. Nope we are going an entirely different direction. It's going to be short stories.
I'm also writing more flash fiction and poetry, I call them my fun writings because I just relax into them and away I go). I'm also learning how to write stories with a twist. Meaning the ending isn't necessarily what you think it will be.
Now that reminds me saints, Nugget's Book Club, ya'll know registration was closed as of September 20th but I am so looking forward to hanging out with all of you that did register. We start October 1, 2023. The emails will be coming out soon.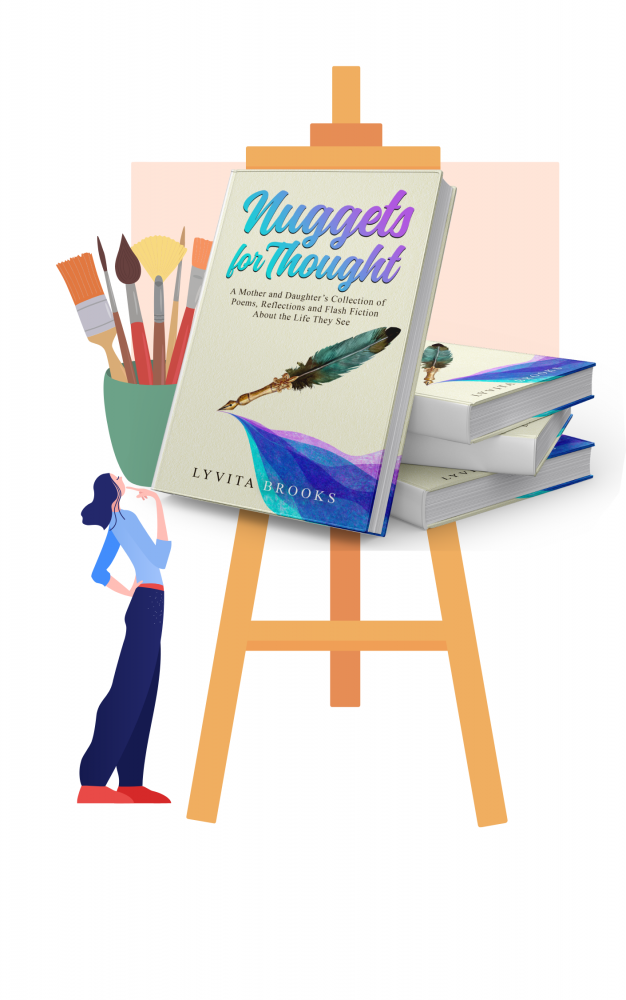 Although Nugget's Book Club's registration is closed, the Fortified Coaching Program's is open. Links are in the notes and on my websites. The Fortified Coaching Program is for those who want to begin their ministry and/or turn it into a business. It's also for the person who now knows what they are called to do and are ready to take the next step. As well as, those who, like me, left their first passion, and are ready to begin again.
God's shown me how to start small businesses, strategically plan out their goals and put people on the road to being successful. I've started one of my own and restarted it after letting it go in limbo. God's blessed me to help others start their own business, including a band and locksmith business.
I know what it takes to get started once God's placed it on your heart. I'll teach you how to build your foundation in Christ, so it will stand or pivot when need to. Please pray about joining me, because I'm looking for 16 people who are serious about moving forward. I'm praying for people who want to advance the kingdom of God. Is that you? Pray. If God says yes. Then register.
5 Steps to Planning Your Next Month
8:53 – Well saints, school is back in session. That means more cars on the road, yellow school buses stopping traffic, and closing up your toes.
It's also the time to revamp your schedule. Look it over and make changes as needed. Think of it as giving it a refresh for the new season which is for the Fall/Winter months.
So here's my question: Have you set down with the Lord recently, to plan your next month according to the goals He gave you for this year? To put it differently, have you spent time talking with the Lord about your goals for next month?
This may be a new concept for some but for others this is a time to make sure you are still on track to doing what God's placed on your heart. Goals help keep you focused. That's why it's important to review them daily and monthly, in the sense of gauging where you are now, analyzing the highs and lows, and where you need to go to accomplish that deadline. Also celebrating big, small, and in-between accomplishments. That's what put the spice in your life.
The Concept
10:18 – So what is this concept I'm referring to. It's setting one day out of each month to review your goals, plan or adjust out your schedule, with the Lord. And here's how you do it.
First, identify one major goal you want to accomplish for your job/business, ministry (what God's called you to do), and personal life. The thing you don't want to do is overcrowd your month with busy work. Your goal is to be intentional and goals help you do that. Therefore, identify one major goal for each of the three: job, ministry, and personal.
Second, write them down. Write them down on a notecard and tape it to your computer, so you see it daily. Write it, not take a picture; write it in your phone. It's the writing of things that help with memory. Mine are on the left side of my paper calendar and in my prayer journal.
Third, get your mind straight. The point of setting aside time from 4 to 8 hours is so that you can talk with God, listen to God, understand God, bounce things off God's Word, and be in His presence. That means, take time in praise and worship inviting the Holy Spirit into this planning session, thanksgiving and gratitude, confession and repentance. It takes time to get all that stuff out of your head, so you can focus on what's at hand. That means you may need a pad to write down all the stuff that is on your mind before you can actually plan. This will allow you time to dump the mess.
Fourth, strategically plan with God. Start with writing down why you are here. It's to strategically plan with God for next month in completing the three major goals. State them and rather it's for job, ministry or personal. You can change the topics but just make sure they are intentional goals that need completing next month. For example: Household, Finances, and Personal, are also topics you can use. Next, set up your schedule talking to God about how best to complete each goal within that month. Remember just one goal per subject. Don't try to do two things, because it may get complicated if procrastination shows up.
Lastly, pray. Pray that God helps you accomplish the goals, help you deal with the unexpected strategically, and that you live daily with meaning, purpose, intentionally.
Saints, setting goals, strategic planning, writing your schedule for the next month while in the presence of God, all result in putting meaning back into your life. It gives you purpose; a reason to thrive.
So let me know how this helps or if you what more information by clicking on the link in the show notes, your newsletter email, or hangingoutwithjesuspodcast.com.
Let's Pray
God Almighty, Father, thank you for allowing me to use this platform in order to encourage your children, to live life intentionally and daily. I pray that they take the time to set aside a day to be in Your presence planning and scheduling for the next month with gusto, determination and passion. We are so in need of more laborers in the harvest. Your children doing what you called them to do and understanding of Your word. Stir up their gifts and talents where they find joy in doing it. Give them a stronger desire to thirst after your word until they reach for Your word more than other things. And Lord, keep them safe as they go through their day. In Jesus name, Amen.
Thanks for listening. If you enjoyed this episode, then please consider subscribing to the podcast, rating and reviewing it. This helps in moving it forward to being heard by more believers. Also if you haven't done so, get your free twice a month Newsletter to keep up with new releases of the podcast, monthly activities on how to live intentionally and daily in Christ, and much more. All this and more can be found, including my contact info on hangingoutwithjesuspodcast.com or the show notes.
So until we meet again over the airwaves, intentionally and daily, hang out with Jesus.
Lyvita: Shalom!
Calls to Action: