What if failure wasn't the terrifying dead-end it's often painted as, but rather a stepping stone to growth and new opportunities? The uncertainties and fears that accompany failure can be daunting, but as we'll uncover, they can also be transformed into dynamic opportunities for growth. We discuss the courage it takes to admit our mistakes without shame and the comfort drawn from God's unwavering support and protection. Listen in.
Please enjoy this podcast on your favorite podcast platform. Although efforts were made in editing, this transcript may include a few typos. It's difficult to catch some minor errors. Enjoy!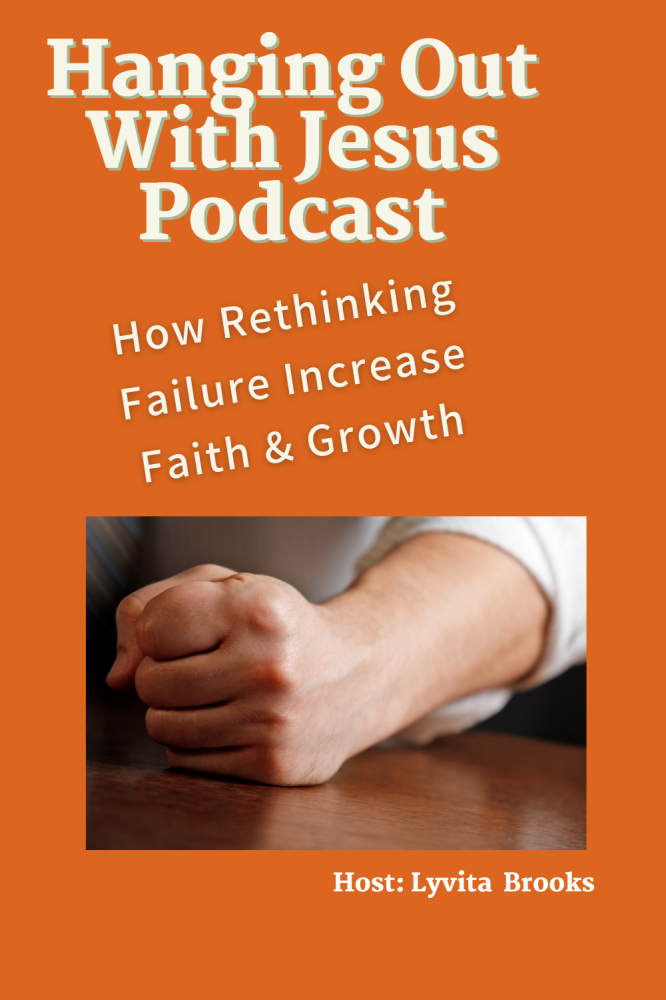 Welcome to Hanging Out With Jesus Podcast where we equip the saints for ministry. By bringing you tips, interviews, inspiration and information on how to live intentionally and daily in Christ.
For more resources including your free newsletter visit www.hangingoutwithjesuspodcast.com or click the link in the show notes
Hi, I'm Lyvita Brooks, author, Bible teacher, founder of The Me Project Academy, and your host.
Thanks for supporting this ministry and rating and commenting on the blog and whatever podcast platform you are listening to because then it makes this feel more like a conversation. If this is your first time listening in… WELCOME!
This is episode 87. Our focus is on failure. What's you're view of failure? Why do you consider it a bad thing or do you? What does the Bible say about failure? What are you going to do when it happens?That and more is coming up …
Let's Pray …
3:34 – Our Father, Proverbs 24:16 says, "though the righteous fall seven times, they rise again, but the wicked stumble when calamity strikes." Helps us never forget that no matter the tradedy, tranisition to the unknown or failure, with You on our side we will bounce back. Thank you for never leaving us or forsaking us. In Jesus Christ name we pray, Amen. And Amen.
Now come walk with me where we intentionally and daily hang out with Jesus.
In The Me Project Academy News …
2:09 – Two things:
I am back writing. Presently, I am working on a book of short stories. That's all I can tell you now because I really don't have a theme as of yet.




I am also in the process of revamping my website and journal, devotionals, especially Psalm 91 and The Me Project: Who Are You and Whose are You. I'm turning them into bible studies with video for one and audio for another, so stay tone until February 2024
Encountering Failure
3:16 – Saints, do you know that failure is going to happen? It's inevitable. We might think we can cheat failure, but the point still remains, you will encounter failure.
What's your view on failure? Is it that you never fail because you have a tendency of blaming it on someone other than yourself or something else? Maybe your view of failure is that once it happens you will never be able to succeed at anything again.
Your view of failure can result in self-sabotage, low self-esteem, thinking you are either good or bad in a particular area, procrastination and or avoidance behavior.
4:15 – No! Failure is a lesson to learn from. Our best mistakes come through failing at something.
Failure is a good thing. It let's you know how not to do something; opens he doors to new experiences, recognizing different methods, learning something new, growing beyond what you already know. Failure can be to your advantage. It's also a warning sign at times.
Listen to this example and let me know if this young man is a failure or has learned a very important lesson in his life.
5:07 – A young man leaves home for the first time as an adult and moves to a far-away state. He gets a job, an apartment and two buddies to help him pay for the apartment. For the next three years life is good. So good until the young man buys his first car, trading in the four year old car his parents purchased for him to drive cross country to pursue his dream. In those three years he even received a raise, advanced in his job and is now dating for the first time because he can afford it.
One day his buddy said he had to move back home because his father needs help on the farm. The young man looked for a new roommate, but three weeks later the other buddy said he had to move home because his mother couldn't help him pay the rent any more. The young man looked everywhere for two roommates, now. The rent was due and so was his extra two weeks, he only had his part. He talked to the landlord who felt sorry for him and gave him two more weeks beyond the monthly due date.
The young man called everyone to help him as he continued looking for more roommates. He loved this place. The rent was due and he had to leave. He asked around to see if he could stay with a few friends until he could get his own place. No way. His friends were still living at home, his girlfriend dropped him, and his parents didn't have the funds, but told him to come back home.
He became anger with family, friends and God. Two months later, he's living in his car. So is this young man a failure or learning a valuable lesson?
7:09 – I'd say he just met up with reality. He has encountered failure at the point where he will either move forward, stand still, or regress. For some this may seem like an opportunity, others will get mad at the world and begin blaming others, or the system, or God. And yet there are some who see this as an opportunity to grow and that's where I want you to be.
I've been laid off, riffed, even put out my house. Back in the day going to the unemployment off was even more depressing then being laid off. And being riffed from my job, never knowing if they are going to reinstate me became about four months of living in constant commune with God.
Now being evicted. Well, things happen. And yet, I felt like a failure. It was through each of these experiences I learned that they were just an opportunity to learning a new lesson that pushed me forward.
8:25 – In being laid off, I went back to finish my degree in college and had enough money to pay for the full year. Being riffed, I submitted more stories for publication and had time to learn new writing techniques and received a job that propelled me into assistant principalship. Being evicted, started a friendship with my cousin that is still close today. In them al, I learned the biggest lesson of all and it comes from Isaiah 40:31, "but they who wait for the LORD shall renew their strength; they shall mount up with wings like eagles' they shall run and not be weary; they shall walk and not faint."
Saints after each failure. After every time things didn't go my way because I had planned something different, after life put me into a season of constant transitioning which seemed like monthly, after I felt like giving up because life threw me a curveball I knew was coming but just not seeing it then, each time I've failed or made a mistake, God was with me and gave me the strength to keep moving forward.
10:05 – I'm learning that it isn't the trial that you look at daily, but fixing your face on Jesus because it's the aftermath that is going to be awesome.
When you encounter failure learn from it. The example I used of the young man earlier. When he sits back and take stock of what happen instead of being anger, he should have learn that you never live outside your means, but if you do have a back up plan that doesn't consist of living in your car. Secondly, friends aren't always dependable. Third, life is unpredictable and no matter how well you plan, or how many backups you have, you cannot control the future because life happens, in the most unusual ways. Fourth, you are not invincible. Fifth, sometime going backwards or being humble is where you'll find your place to propel.
23:35 – Lastly, the only backup plan, or any plan, that is full proof is hanging out with Jesus, daily. Isaiah 40:31 says it all. And then follow that up with Proverbs 3:5-6, "Trust in the LORD with all your heart, and do not lean on your own understanding. In all your ways acknowledge him, and he will make straight your paths."
Saints, here's your opportunity for growth. Take the next couple of weeks and get in the presence of God to talk about that one particular failure you are ashamed to admit or was deeply hurt by. Ask Him what is it that you should have learned from that experience that will be helpful for you to implement in your present?
Let me repeat that: Take the next couple of weeks, get your Bible, pad and pen, and get in the presence of God to talk about that one particular failure you are ashamed to admit or deeply hurt you. Ask Him what is it that you should have learned from that experience and how can it help you propel into your future?
If it's something you are willing to share with me so we can learn from each other then contact me at lyvitabrooks.com/contact. It's also in the show notes.
Saints, you and the Lord can do all things. Believe it!
Let's Pray …
13:42 – I'd like to pray with and for you.
Heavenly Father, keep reminding us that we can do all things through Christ who strengths us. Teach us how to trust in you when encountering failure and remember that you are our dwelling place, the Most High. You will cover us with your pinions and under your wings they will find refuge for your faithfulness is a shield and buckler. Father, they/we are your children. LORD God, you are our refuge and our fortress, our God in whom we trust. In Jesus name, Amen
Thanks for listening. If you enjoyed this episode, then please consider subscribing to the podcast, rating and reviewing it. This helps in moving it forward to being heard by more believers. Also if you haven't done so, get your free twice a month Newsletter to keep up with new releases of the podcast, monthly activities on how to live intentionally and daily in Christ, and much more. All this and more can be found, including my contact info on hangingoutwithjesuspodcast.com or the show notes.
So until we meet again over the airwaves, intentionally and daily, hang out with Jesus.
Shalom!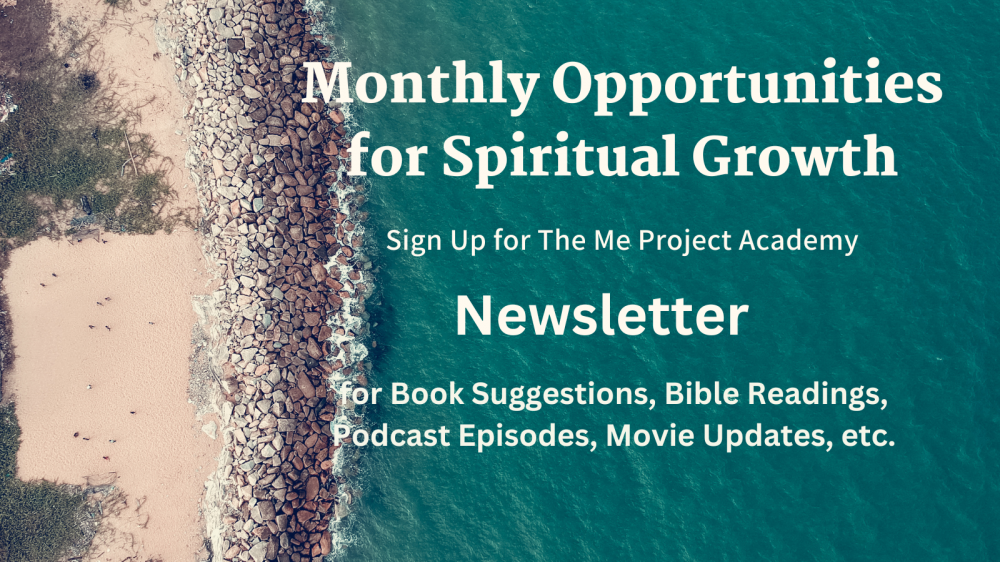 Calls to Action:
Sign up for The Me Project Academy Newsletter for resources on developing disciplines to help you grow in Christ, prayer and new releases of the podcast.
Website: www.hangingoutwithjesuspodcast.com

@hangingoutwithjesuspodcast (Instagram)

@themeprojectacademy (Pinterest)

www.goodreads.com/lyvitabrooks