Please enjoy this podcast on your favorite podcast platform. Although efforts were made in editing, this transcript may include a few typos. It's difficult to catch some minor errors. Enjoy!
(Episode begins)
55.5 - Hey Saints, so often we wonder, "God am I doing what you want me to do?" "God did you really call me to do that?" "God am I doing what you want me to do in the way you want me to it?" "God, I'm confused. I thought I was on the right track?" Does any of these questions sound familiar? When was the last time you questioned God about your calling? Well that's what this episode is about: Your calling, specifically writing.
1:44 - Let's pray: God our Creator, Abba, we ask that You be in our conversation, help CJ and I speak with clarity guided by the Holy Spirit. Open the hearts of your people so that they can grab hold to nuggets that will help them grow. In Jesus name, Amen.
2:34 - Saints, this podcast is about helping you develop disciplines to connect with God. And yet this episode is about not just connecting with God, but clarity about your calling, specifically your writing career. This episode is for anyone that considers themselves a writer and/or author, have written a book, article, journalers, write puzzles or jingles.
Saints, it's time to do what God's called us to do. It's time to stop faking it, fearing it, and being unsure of it. And the "It", I'm talking about, is whatever God's called you to write, author or put together in the form of written words.
Get our FREE downloadable The Spiritual Assessment Checklist to analyze your walk in Christ and then identify next steps for growing in Grace.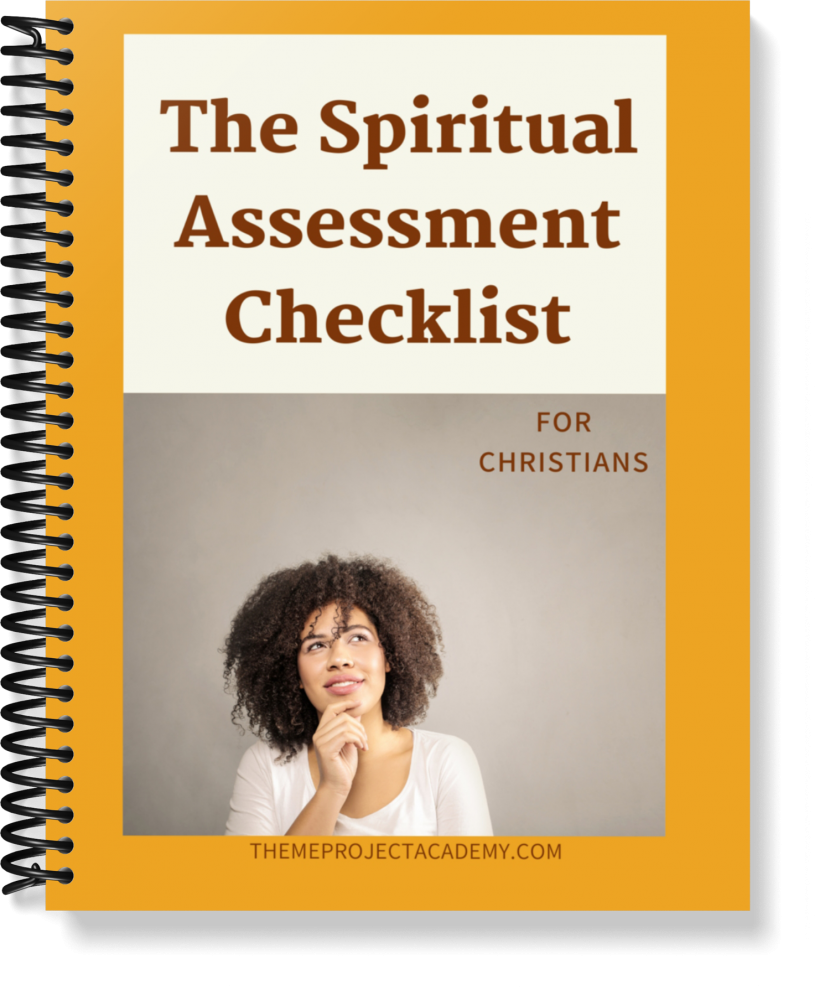 3:16 - This is why our guest is CJ Hitz. He and his wife, Shelley are the host of Kingdom Writers: A Podcast for Christian Writers whom I listen to regularly and have been a help in my writing life and others. They have a large private Facebook group. Welcome CJ.
4:10 - I am so happy to have you on this episode. Some of our listeners are writers, journalers, and Bible teachers. So I guess the first question we need to discuss is, is writing a calling?
4:51 – The first question: Is writing a calling? Jeremiah 29:9-11 mentioned.
7:40 – When God has impressed something on your heart, get it out, if not it will turn into depression.
9:28 – How can we get out of a depressed state from not writing?
12:15 – Encouragement and next steps to get back into writing. Questions discussed: Do you face resentment when you write?; and Does God's word burn inside you?
13:37 – How do we pray over our writing business and the benefits of doing so?
20:02 – The difference between "muse" (world) vs Holy Spirit.
22:53 – Is it selfish of me to pray for increase sales or to receive a living from my writing material?
27:28 - Lyvita: So can you share with our listeners what your author training program is about and also how listening to Kingdom Writers podcast would help them grow as a writer? Because the one thing I have to say before you start is that you provide practical information which I can do after listening to the podcast. For example your tips on 100 places to promote Christian books and do a short kindle eBook. I love writing short stories and flash fiction, so that was right down my alley and that episode just confirmed it.
32:20 - Lyvita: Thank you for sharing your passion for writing with the Saints that God has given you over the years.
34:00 – CJ prays for writers.
35:56 - Lyvita: Now Saints, I pray that you ponder what God has highlighted in your hearts during this episode and being doing, whatever it is that God is showing you. CJ, can you pray us out?
Well Saints, don't forget to write a review or rate the podcast on whatever platform you are listening to or write a comment to let CJ and I know what a blessing this episode ways to you.
Now, until we meet again over the airwaves continue to intentionally and daily, hang out with Jesus.
Lyvita and CJ: Shalom!
Consider joining our email list to receive reminders of new releases and updates.